August 2nd 2019, Jed Clarkson had just been released from prison. Seville was no more, the set had fallen apart. Brian's childhood friend  was making moves with a set called Grape Street Crips 3 years prior, however the set went quiet, eventually breaking up aswell. With no direction, Brian decided to give his childhood friend  a call in hopes of starting fresh. The Grove Street resident had almost given up gangbanging, but he was inspired by Brian's dedication and willpower and decided to tag along with him. Ganton was a mess, riddled with Ballas and Latinos, which angered Kevin greatly. He was furious, seeing his old rivals bask in the glory that he thought he deserved the most.
Without hesitation Kevin decided to give his old homies a call. The duo promptly gave the old Seville OG's a call and got back together with France ramos and Rob morton. They in turn introduced  and K to young up and coming gangbanger  who had just as much potential as he had hatred for the fact that the eastern part of Los Santos, and specifically Ganton was being overran by Ballas and Latino gangs. The crew of five vowed to take back their turf and set out to rid Ganton of the purple plague.
A week later. Benjo and Kevin were tagging up a wall near the gym in Ganton.  and  sat in Savanna, enjoying a blunt. Suddenly, Brian received a call. It was , one of Brian's closest friends who had lost contact with him after Brian got locked up. He heard of jed making moves in Ganton and was annoyed at not getting invited to the "party", as he put it.  was always a bit stuck up and him not getting notified that his best bud was back in business had hurt his ego.
and crew chose to meet up with . The gangbanger who was notorious for listening to country music, , asked Brian if he could bring another close friend of his, who turned out to be Huang Boarden, a former member of the Russian mafia.
They met up at the Pizza Stack in Idlewood, Huang was eating french fries. Kevin, still with a damaged ego, pretended to not recognize Brian. However he put away the act, fistbumping Brian and welcoming him back. The squad left the place with two more loyal members, their rise to greatness seemed inevitable.
With yet another fresh face in David Burton, a man one might mistake for a male prostitute with how many female lovers he has, the set returned to the Grove.
Bigger, stronger, bold and confident, the rebirth of one of the greatest street gangs Los Santos had ever seen was done. No one is safe anymore, that was the message the set of both veterans and newcomers, a perfect mix, wanted everyone to know. It's about respect and authority. About showing everyone the old dogs still got it. It's about loyalty. About hatred of their rivals who had taken over their area and about representing Grove Street with their lives on the line. No regards for anyone but themselves. They dubbed themselves Grove Street Families, an hommage to where everything started but then crumbled and finally split off. It was a long time coming but now it's time to take over again.
A WEEK LATER
Rob Morton, one of the founders of the original Grove Street Families, had returned to Los Santos and vowed to the Ganton based street gang great again. However, the gang banger who had left the country three years ago was lacking severely in manpower. Thankfully, almost as if it was destiny, he ran into  at the gym in Ganton, who convinced to tag with him, uniting the Seville Boulevard and Grove Street Families set once again.  caught up with the now reborn Grove Street Families in crib. The gang had already made quite a name for themselves in the prior week, taking back most of Ganton and Idlewood.  let his contacts flow and brought Titus Styles, an older fellow, to tag along with the squad. Now truly determined to take over Los Santos, the group riddled with a bunch of new faces set out to take over every single turf that was taken from them when they were incapitated. Whether it was because they got locked up, because they were busy living the American dream, or because they had left the country due to issues with the government, the police, the feds, or just because they needed a timeout. No one will ever forget about the Grove Street Families again..

RANK STRUCTURE
Lil' Grove - You hang around the hood in hopes of making a name for yourself, pushing dope or tagging walls.
G'Street Hustlah - Your involvement in the family begins to grow as you move away from the spraycan and focus on representing the set with your life.
G'Street Banger - Your fame and power is rising rapidly as you start earning more respect and make a name for yourself in the set.
G'Street Ryder - You have stayed loyal to the set for a while and gained both fame and respect. G'Street Ryder's may choose to lead a small set within the gang.
G'Street Soulja - You have proved your worth and are well respected both within the gang and within Los Santos itself. You stuck with the gang through hard times and earned yourself a nifty position. Your word holds a lot of weight.
Certified Gangsta - Only those who have stayed loyal through the toughest of times get to be a Certified Gangsta. Your word is respected and your responsibility is to watch over all the gangbangers and assign tasks to them.
Grove OG - You have loyally represented the set for the longest time and your word is both respected and feared. You're the end all be all of the gang and keep everyone in check. 
MEMBERS
Jed Clarkson SLOT HOLDER
Royal Ramos Co Slotholder
France Ramos
Rob_Morton
Rain Slash
Norman Lancer    
SKINS:105 106 107 1
VEHCLE IDS:470/481/492/521
Jed "meme" Clarkson - Slot Holder (R6)
royal "snake" ramos - Grove OG (R6)
uL France_Ramos - Grove OG (R6)
ROLEPLAY:
DRUG DEAL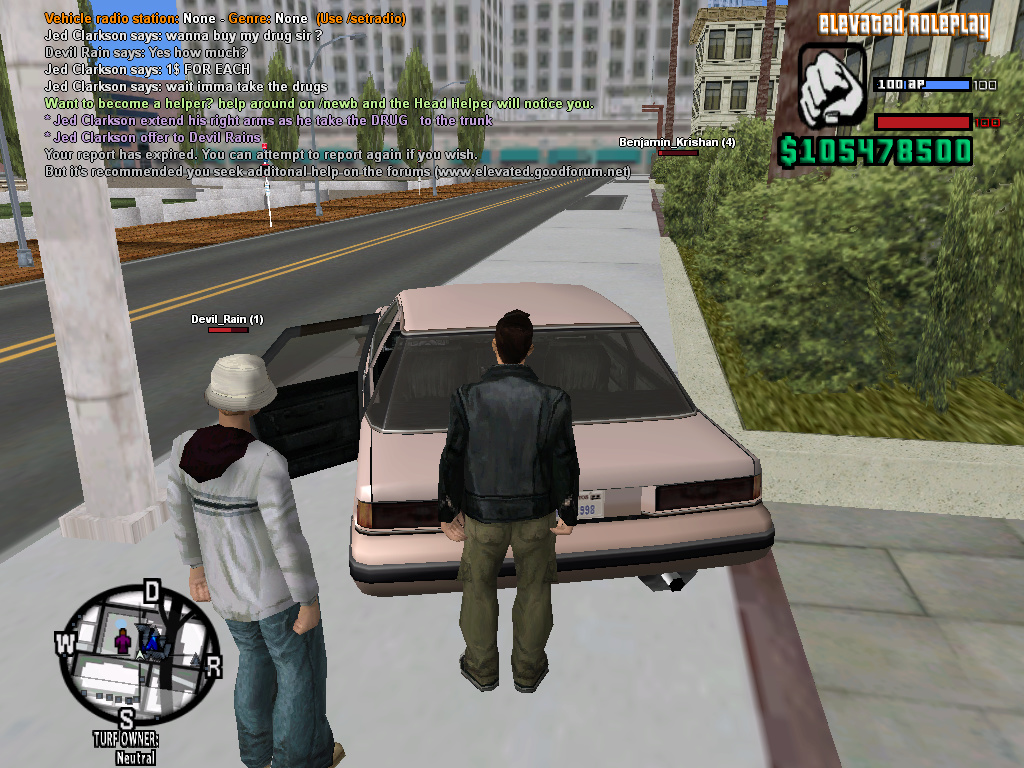 RIFLES DEALS
THATS THE ROLEPLAY BRUH